'Break down all the barriers'
2000: Cathy Freeman lights the Olympic flame and wins the 400m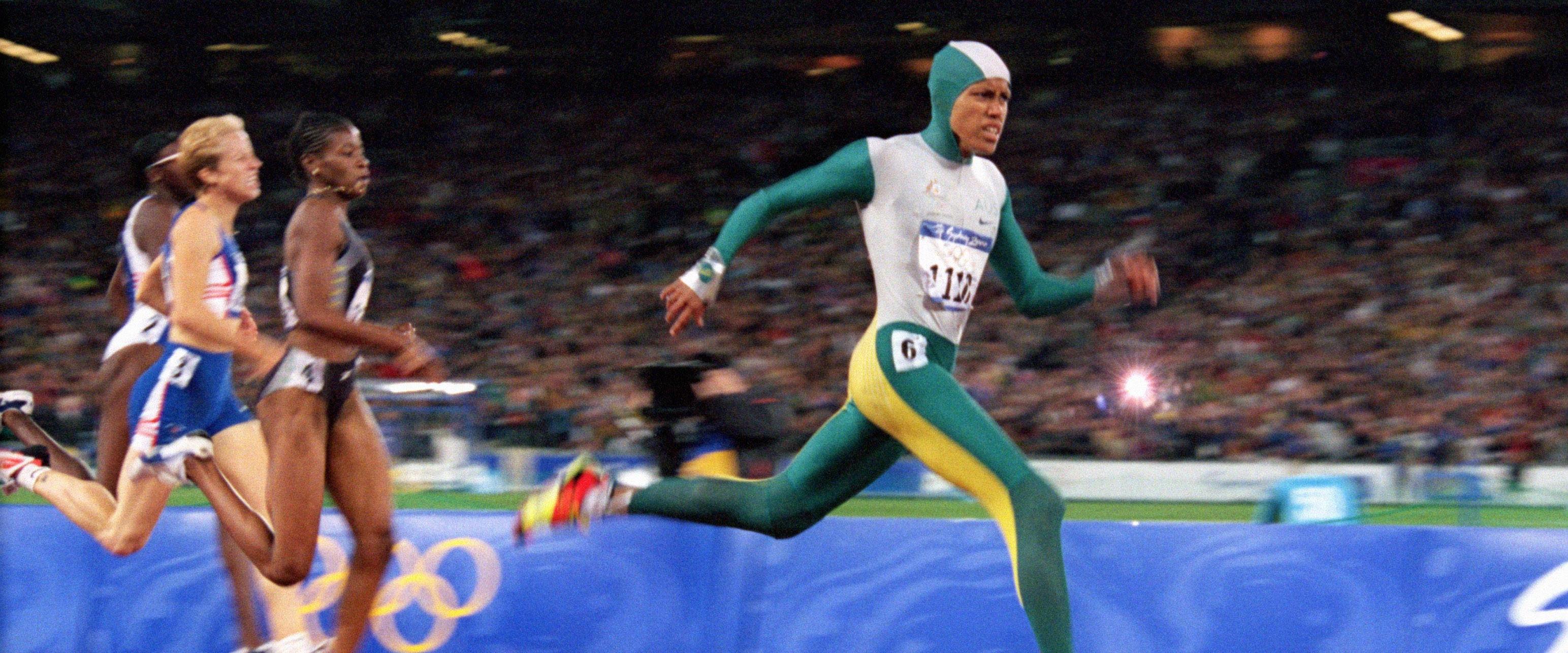 'Break down all the barriers'
2000: Cathy Freeman lights the Olympic flame and wins the 400m
PA Images / Alamy Stock Photo
Use the following additional activities and discussion questions to encourage students (in small groups or as a whole class) to think more deeply about this defining moment.
Questions for discussion
1. What do you think drove Cathy Freeman to success at the Sydney Olympics and throughout her career as an athlete?
2. Do you think her actions in tying together and then wearing both the Aboriginal and Australian flags in her victory lap helped promote reconciliation? Give reasons for your answer.
3. Do you agree with the National Museum of Australia that Cathy Freeman's win at the Sydney Olympics is a defining moment in Australian history? Explain your answer.
Image activities
1. Look carefully at all the images for this defining moment. Tell this story in pictures by placing them in whatever order you think works best. Write some short captions under each image.
2. Which three images do you think are the most important for telling this story? Why?
3. If you could pick only one image to represent this story, which one would you choose? Why?
Finding out more
1. What else would you like to know about this defining moment? Write a list of questions and then share these with your classmates. As a group create a final list of three questions and conduct some research to find the answers.
In a snapshot
In September 2000 Aboriginal athlete Cathy Freeman lit the Olympic flame to mark the beginning of the Sydney Olympics. It was the climax to the spectacular Opening Ceremony in the Sydney Olympic Stadium in front of 112,524 people. Ten days later, having dreamed of this moment since childhood, she won the gold medal in the women's 400 metres race.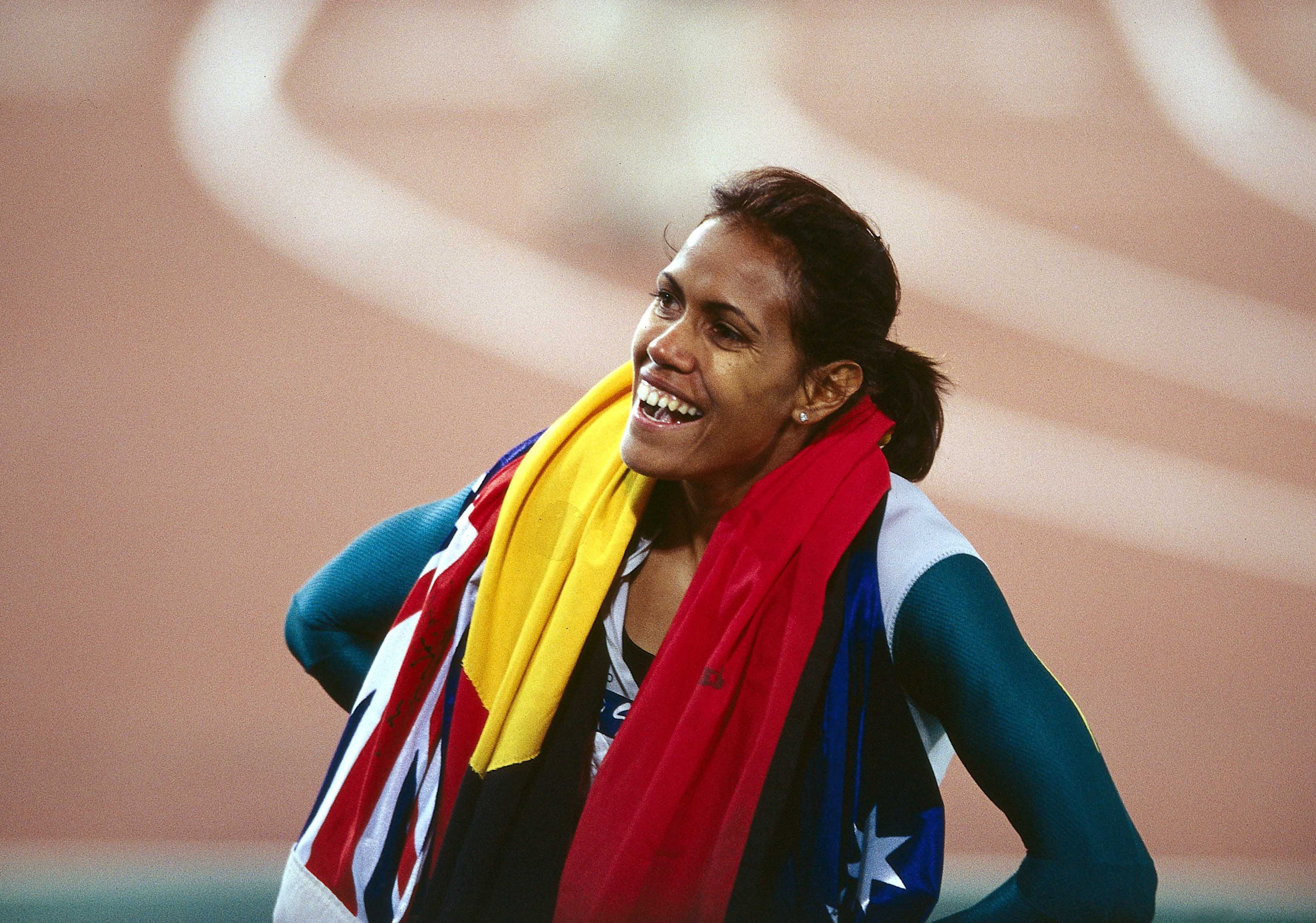 Can you find out?
2. What did she achieve at the Sydney Olympics?
3. Why did she wear both the Aboriginal and Australian flags in her victory lap?
Who is Cathy Freeman?
Since she started winning races as an eight year old in Mackay, Queensland, Cathy Freeman was hooked on running. She once said, 'The first thing I remember about running is how happy it made me feel.'
Both Freeman's parents strongly encouraged and nurtured her talents and she began to excel as a young athlete. From her teenage years she had dreamed of winning an Olympic medal. By 2000, when the Games came to Australia, she was 27 years old and at the peak of her career.
'Running for me is always more than just physical and mental; it is also emotional and spiritual ... It's like your blood is boiling, like there are ants in your blood.'
Why was Cathy Freeman chosen to light the Olympic flame?
At each Olympics a torch relay carries a flame lit at Olympia in Greece — the site of the ancient Olympics — to the city where the Games are being held. In 2000, 13,400 torch-bearers carried the flame.
Cathy Freeman's job was to take the torch from the final torch-bearer and use it to light the Olympic flame that would burn throughout the Games. The organisers chose Freeman because she was young, female, Indigenous and very popular in Australia. They saw her as a symbol of a new Australia and wanted to celebrate the contribution of Aboriginal people.
Freeman carried the torch up several flights of stairs dressed in a white, fireproof bodysuit. Carefully treading on submerged steps, she walked into the centre of a pool of water. A ring-shaped cauldron emerged from the water around her, and she plunged the torch into it. This became the cauldron of the Olympic flame.
What happened when Freeman ran the 400 metres final?
Cathy Freeman was honoured to have lit the flame, but her main focus was on the women's 400 metres race. This was her best event. She had won the gold medal at the Commonwealth Games in 1994 and at the World Championships in 1997 and 1999. She had come second at the previous Olympic Games in Atlanta in 1996, taking away a silver medal.
Freeman had entered the Sydney Games in good form and comfortably won the three elimination rounds before the 400 metres final. For the final on 25 September she wore a Nike Swift Suit — a green, gold and silver bodysuit with a hood made from fabrics that would reduce drag.
Despite enormous pressure as the home favourite, Freeman ran a steady race. On the bend two other runners were close to her, but on the final straight Freeman powered away to win by three metres. The pressure had been huge, but she had lived up to the dreams of a whole nation.
Research Task
Read more about Cathy Freeman and what she has achieved since her win at the Sydney Olympics.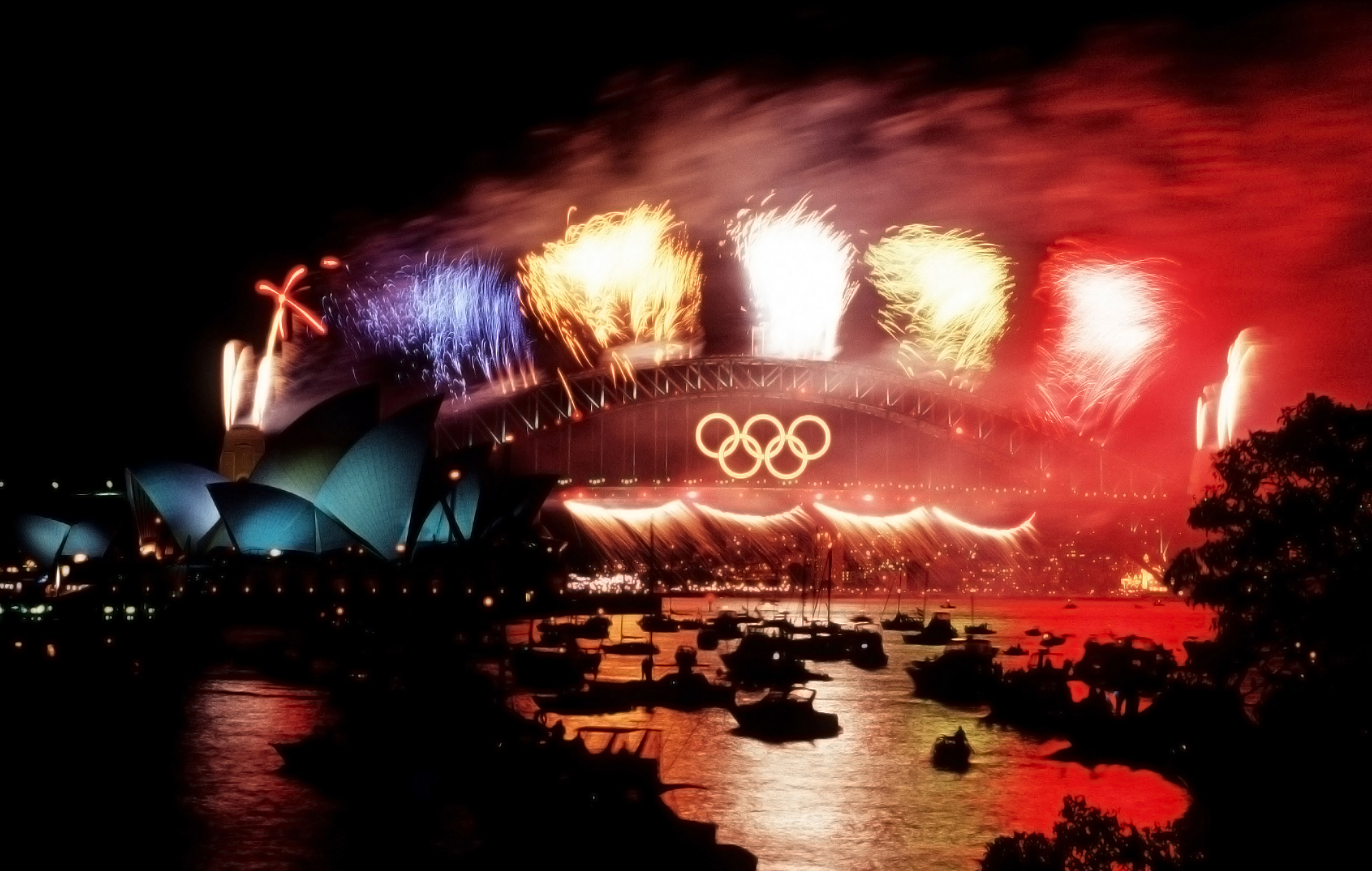 Why did Freeman carry two flags?
Freeman was keenly aware of the many injustices suffered by Aboriginal and Torres Strait Islander peoples in Australia. Her grandmother had been part of the Stolen Generations and was forcibly taken away from her family at the age of eight. Freeman was upset that the government of the day had refused to issue an apology for the policy of taking Aboriginal children away from their families.
At the Commonwealth Games in 1994, after winning the gold medal for the 400 metres, she had worn both the Aboriginal and Australian flags around her shoulders. She wanted to show people that she was proud to be a world-class Aboriginal athlete. Some people criticised her, but the Prime Minister at that time, Paul Keating, praised the action.
After winning the gold medal in 2000 Freeman did a victory lap in front of the ecstatic home town crowd. Again she wore both flags, carefully picking them up at the same time and tying the ends together to show that they were equally important to her. This time everybody was happy with how she chose to celebrate her win.
Later, reflecting on her success, Freeman hoped that her achievements as an athlete would be an inspiration to Aboriginal children.
'I feel this amazing affinity to my people and I carry around what has happened to them in my heart. I want the kids to look up to me and see that a girl with the same colour skin and background as them can break down all the barriers and make it in the white man's world.'
What did you learn?
2. What did she achieve at the Sydney Olympics?
3. Why did she wear both the Aboriginal and Australian flags in her victory lap?
Related resources