Australia's deadliest flood
1852: Gundagai floods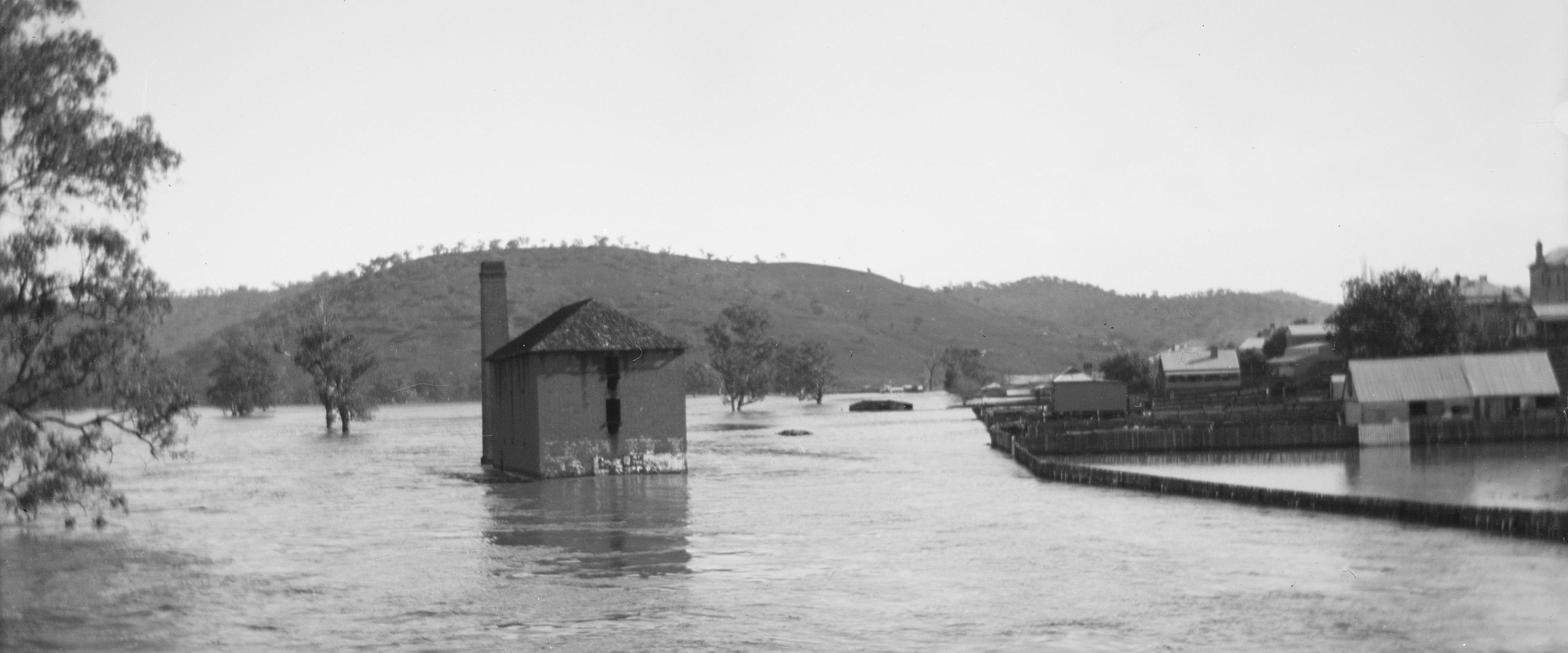 Australia's deadliest flood
1852: Gundagai floods
National Library of Australia nla.obj-13973356
Use the following additional activities and discussion questions to encourage students (in small groups or as a whole class) to think more deeply about this defining moment.
Questions for discussion
1. What does this story tell us about early white settlers' attitudes to the Wiradjuri people? Is there evidence to suggest these attitudes may have changed over time? Would you say this evidence is limited or conclusive? Explain you answer.
2. Do you agree with the National Museum of Australia that the 1852 Gundagai flood is a defining moment in Australian history? Explain your answer.
Image activities
1. Look carefully at all the images for this defining moment. Tell this story in pictures by placing them in whatever order you think works best. Write a short caption under each image.
2. Which three images do you think are the most important for telling this story? Why?
3. If you could pick only one image to represent this story, which one would you choose? Why?
Finding out more
1. What else would you like to know about this defining moment? Write a list of questions and then share these with your classmates. As a group create a final list of three questions and conduct some research to find the answers.
In a snapshot
In the middle of the night on 24 June 1852, a catastrophic flood swept through the New South Wales town of Gundagai. The water rose quickly, destroying whole buildings and leaving people clinging in trees. Between 80 and 100 people died, although the heroic efforts of four Wiradjuri men meant that many others were saved. The disaster is still the deadliest flood in Australia's recorded history.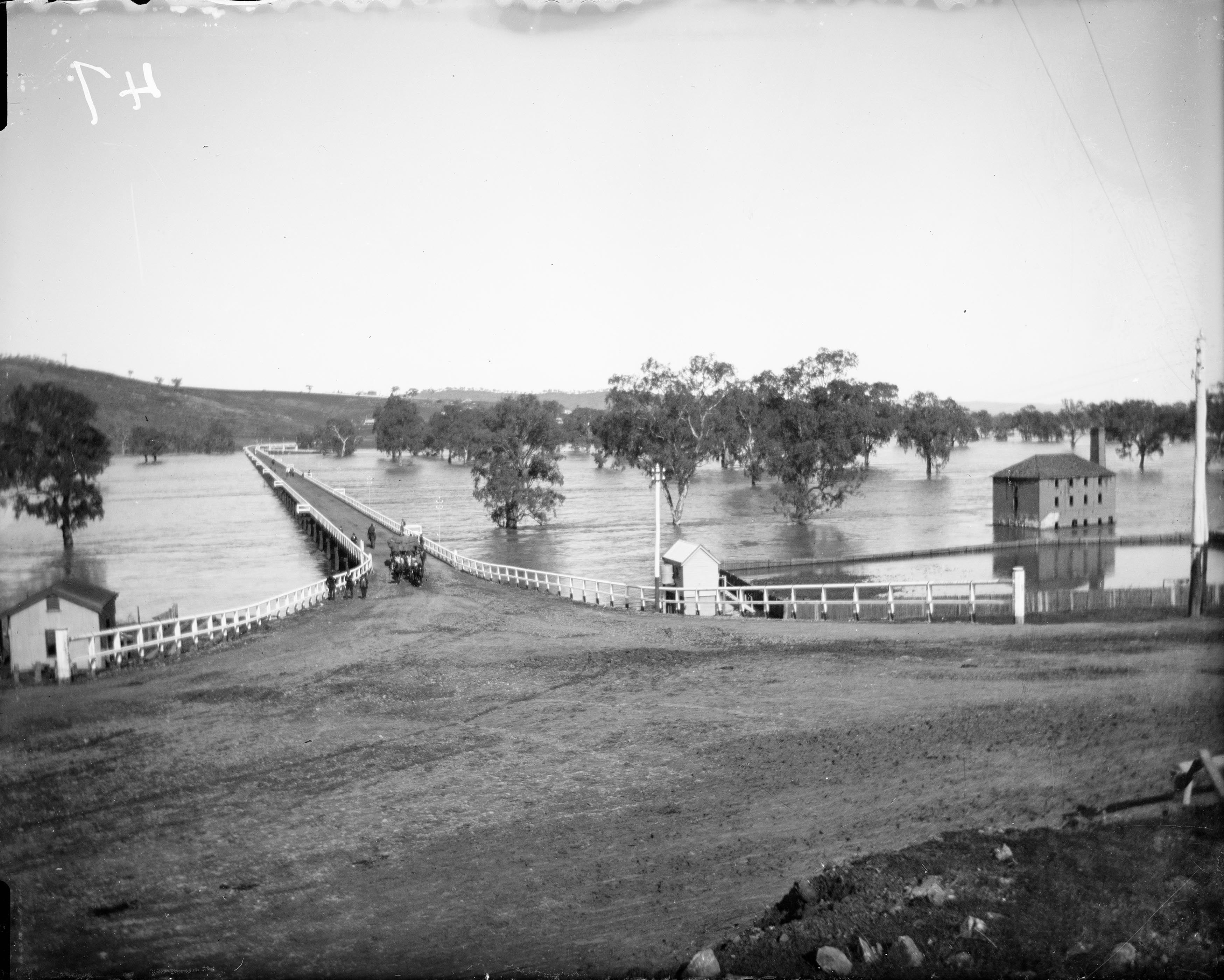 Can you find out?
1. Which river flooded Gundagai in 1852?
2. About how many people died during the flood? Why don't we know exactly how many people died?
3. What were the names of two of the Wiradjuri men who rescued many white settlers?
Floods in Australia
When Europeans arrived in Australia they didn't understand the river systems. Unlike the rivers of northern Europe, Australian rivers flowed, dried up and flooded in no regular cycles. Aboriginal people, who understood their country, knew that floods could boost plant growth and result in a bounty of food.
Who are the traditional owners of Gundagai?
Aboriginal people have lived in the area now known as Gundagai for at least 50,000 years. The Murrumbidgee River was a major source of food for the Wiradjuri people of the region. The land around the river was also used as a camping and meeting place and a hunting ground. In the Wiradjuri language the word murrumbidgee means 'big water' or 'plenty water'.
When was Gundagai settled?
The first European explorers passed through the Gundagai region in 1824 while creating a route from Sydney to Port Phillip (Melbourne). By 1836 pastoralists were using the area.
The town of Gundagai was gazetted in 1838 and a town plan was drawn up. Building started on the flat land around the river. The local Wiradjuri people warned that this area was often flooded, but the new settlers ignored these warnings.
During Gundagai's early years, the Murrumbidgee River flooded several times. The town's residents started to become concerned, but no action was taken to protect the town from future floods.
Research task
Australia has had many floods since 1852. Research another damaging flood. Find out where and when it happened, what was damaged, and whether any people died, were injured or needed to be rescued because of the flood.
'One of the most fearful catastrophes which it has ever been our lot to record … the village of Gundagai has been almost entirely destroyed.'
Sydney Morning Herald, 5 July 1852
What happened during the great flood?
During the night of Thursday 24 June 1852, after weeks of heavy rain, the Murrumbidgee River broke its banks and surged into Gundagai.
In previous floods, residents had sheltered in their attics and on rooftops. This time the water rose very quickly and soon there was no escape. Whole buildings were swept away, and treetops became the only things left to hold on to. Some people clung on to trees for two nights before losing their grip and being swept away. Others died from exhaustion in the branches.
Only three of Gundagai's buildings survived the flood, and between 80 and 100 people died. We don't know exactly how many people died, as it wasn't known how many travellers were in Gundagai at the time. The Gundagai flood is still Australia's deadliest recorded flood.
Who were the Wiradjuri heroes?
The number of people who died would have been much higher if not for the heroic efforts of local Wiradjuri men. Over three days they used a bark canoe and a rowboat to pull survivors from the trees.
Four men helped, but we know only two by name: Yarri (Yarrie or Yarra) and Jackey (Jacky, or Jacky Jacky). Yarri rescued 49 people using his canoe, while Jackey rescued 20 using a rowboat.
For many years Yarri and Jackey didn't receive any recognition for their heroic acts. Finally, in 1875 they were given an engraved breastplate each, as well as a lifelong pension. In 2017, exactly 165 years after the great flood, Gundagai unveiled a bronze sculpture of Yarri and Jackey with a bark canoe.
Research task
Have you heard of Gundagai before? It is famous for a small monument just outside the town. Can you find out what that monument is and what it commemorates?
What happened because of the great flood?
In the years after the flood the New South Wales Government agreed to help people move to safer land. By the end of 1859 everyone had left the old town and Gundagai had been set up on the slopes of Mount Parnassus, where it still is today.
What did you learn?
1. Which river flooded Gundagai in 1852?
2. About how many people died during the flood? Why don't we know exactly how many people died?
3. What were the names of two of the Wiradjuri men who rescued many white settlers?