5.4 1928 Don Bradman: Australia's greatest cricketer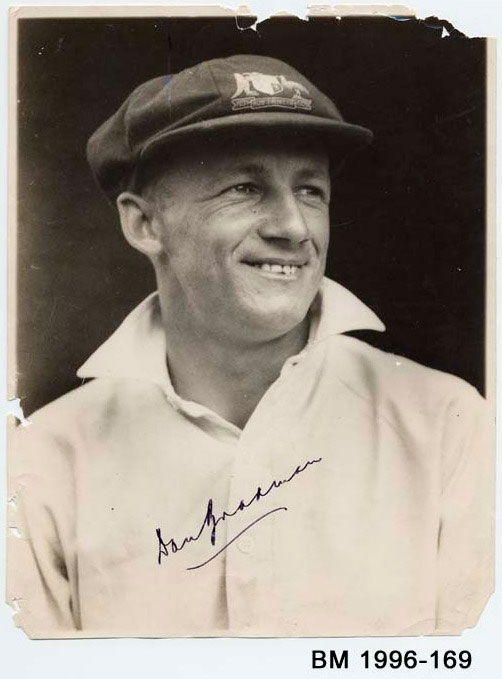 Imagine that you are a member of an Australian sports team.
You are playing against another nation's team — and they are the best in the world at this event.
The other nation is larger, has a much bigger population to choose its best players from, and is admired and respected by the rest of the world for its sporting achievements.
And you beat them.
How do you think you would feel? How do you think other people in Australia would feel?
Discuss these questions, then see what happened with one person in Australia.
Read the information below and use it to answer the Significant people in Australian history questions at the bottom.
Donald Bradman information file
Donald Bradman was born in 1908. He was a talented sportsman who loved cricket. When he was young Bradman practised in his backyard by using a stump for a cricket bat and hitting a golf ball against a water tank.
In 1928 Bradman played in the Test Cricket series against Australia's traditional rival, England. He did not do well in his first game, but when he was recalled to play in the third match he scored a century — 112 runs. He was the youngest Australian to score a test century at that time.
Bradman went on to represent Australia for 20 years and became the best batsman of all time. In his last ever test innings he only had to score four runs to have a test century average of 100. He was cheered all the way to the wicket and, with his eyes full of tears, was out first ball. His test average record of 99.94 runs has never been bettered — the closest average to his is 61.87.
Australians were proud of his achievements as it showed they were able to take on and beat the world's best in this sport.
His cricket career was interrupted by the Second World War (1939–1945).
During the 1948 tour of England, Bradman captained the team that became known as 'The Invincibles' as they became the first touring team never to lose a match during their tour.
Bradman was made a knight in 1949, the only Australian cricketer ever to be made a 'Sir'. He died in 2001.
Significant people in Australian history
1. Who was the person?
2. When did they live?
3. Where did they live?
4. What did they do?
5. Why did they do this?
6. What problems did they have to overcome to succeed?
7. What happened to the person?
8. What was the outcome or effect of what they did?
9. What qualities did this person have?
10. Why was this person significant or important in Australian history?
11. If you could meet this person and ask them three questions, what would they be?
12. If you were advising the National Museum of Australia on an object that it could display to help tell their story, what would you suggest? You can see what objects the Museum has using the National Museum of Australia Collection Explorer.