3.2 1916–1917 conscription referendums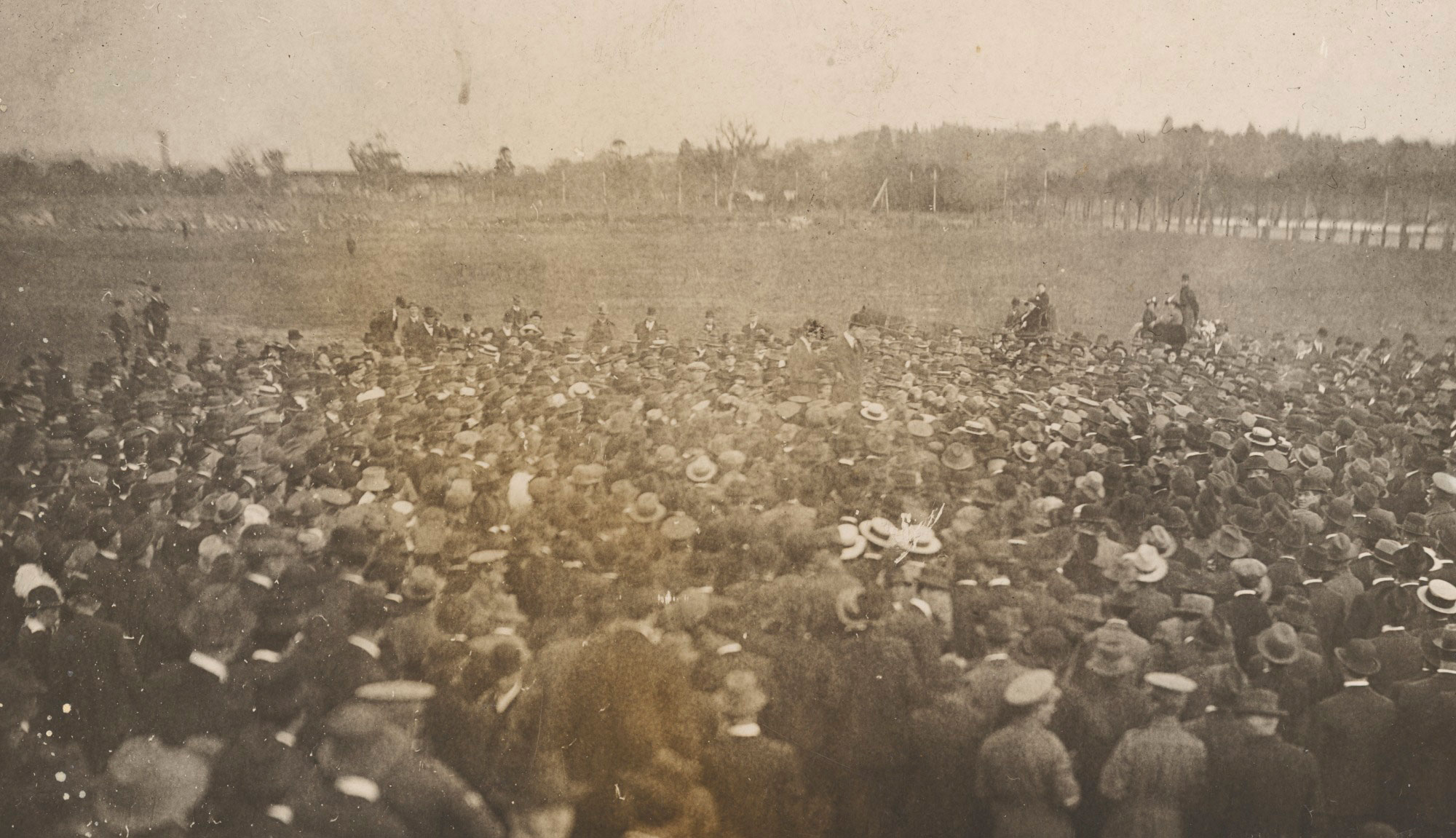 One of the most important issues that affected people on the home front during the war was conscription. The issue of compulsory military service (conscription) was put to a national vote in October 1916 and again in December 1917
On 5 August 1914 Australia joined other countries in the British Empire and declared war on Germany. Men rushed to join the Australian Imperial Force (AIF) and by the end of the year more than 50,000 men had enlisted. But when the news of the disastrous Gallipoli campaign reached Australia in 1915, the number of men enlisting dropped.
In 1915 Prime Minister William Morris Hughes said that no men would be forced to fight overseas against their will. But by late 1916 very few men were volunteering to join the Australian armed forces, and deaths and casualties were high.
Prime Minister Hughes believed that more men were needed to reinforce the troops overseas. Hughes changed his mind on the issue of conscription. He decided that if men would not volunteer, they had to be forced to join.
The Australian Government had introduced compulsory military training for all males aged between 12 and 60 on 1 January 1911. The scheme had not yet produced many trained men. There were some protests and resistance, but the principle of compulsory military training had been generally accepted by most people.
The Australian Government had the power to conscript men into the Army under the Defence Act 1903, but that Act did not give the government the power to send those men overseas to fight.
All the government had to do was to amend the Defence Act in Parliament, where it had a majority in the House of Representatives. However, the government did not have a majority of support in the Senate, which could refuse to change the Act.
Hughes' solution to the problem was to hold a referendum. A referendum refers to a vote by the people to change the Australian Constitution. The government didn't actually need to change the Constitution, as it already had the power amend the Defence Act. So the vote was really a plebiscite, a big public opinion poll.
Prime Minister Hughes believed that when people voted 'yes' for conscription for overseas service (as he expected), some of the Senators who initially opposed conscription would change their vote to match the opinion of the people.
1. Using what you have learned from the information above, drag and drop the correct answers into the spaces to complete this text summary.
The result of the 1916 vote was 'no' by 3.2 per cent. Even though a slim majority of Australians voted against conscription, most still believed that the war was a just cause.
In 1917 Britain sought a sixth Australian division for active service. Australia had to provide 7000 men per month to meet this request. Volunteer recruitment continued to lag and on 20 December 1917 Prime Minister Hughes put a second referendum to the Australian people. On this occasion his proposal was that voluntary enlistment should continue, but that any shortfall would be met by compulsory reinforcements of single men, widowers and divorcees aged between 20 and 44 without dependents, who would be called up by ballot.
The result of the second vote was also 'no'.
By making the issue a public one, Hughes opened the nation to bitter arguments and divisions.
The results of the two votes were:
State

1916

1917

 

%

For

%

Against

%

For

%

Against

New South Wales

42.92

57.08

41.16

58.84

Victoria

51.88

48.12

49.79

50.21

Queensland

47.71

52.29

44.02

55.98

South Australia

42.44

57.56

44.90

55.10

Western Australia

69.71

30.29

64.39

35.61

Tasmania

56.17

43.83

50.24

49.76

Federal Territories*

62.73

37.27

58.22

41.78

Total for Commonwealth

48.39

51.61

46.21

53.79 
* Northern Territory and Australian Capital Territory.
Source: Commonwealth of Australia Parliamentary Handbook
6. Did any states* that voted for conscription in 1916 vote against conscription 1917? If so, which one(s)?
7. Did any states* that voted against conscription in 1916 vote for conscription 1917? If so, which one(s)?
* For the purposes of this activity, count the Federal Territories as one state
8. Why was this Defining Moment so significant in Australian history?
9. If you were advising the National Museum of Australia on an object that it could display to commemorate this event, what would you suggest? (You can see what objects they actually have using the National Museum of Australia collections search)