4.3 'Reading' your local war memorial
Look at this typical Australian war memorial and the questions it raises.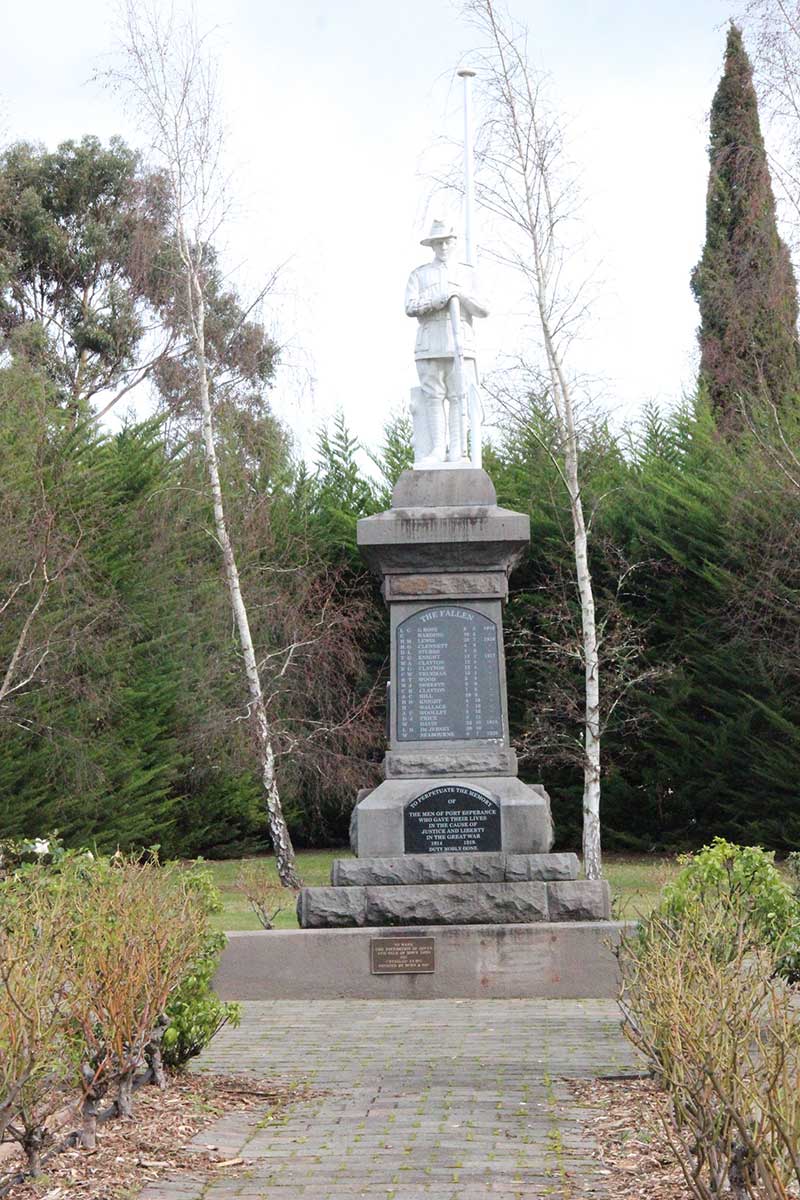 | | | |
| --- | --- | --- |
| Why is it there? What was in the minds of the community that created it? What did it mean to them? | It has words — why did Australia get involved? What are the values and attitudes? | It has names — who, why did they go, and why did others in the community not go? What happened with these two groups after the war? |
| It has family names — what were the impacts of the deaths on their families, friends and communities? | It has symbols — what do these tell us about how people saw themselves at the time? | It is still a focus for commemoration today. Why? What does it mean? Is it the same as it meant then, or something different to us today? |
To answer those and other questions, you need to observe, analyse and understand.
Below is a guide to help you. Survey your local memorial, and make notes about its features. If you do not have a memorial in your community, there may be another community not far away that has one, or you could research one online.
Remember that monuments are not the only kind of memorials. Look for plaques and statues in community halls, schools and other public buildings too.
Features that sometimes exist
Your local memorial.
Names
Most have names on them.
Some have no rank — suggest why.
Some include the names of all who enlisted — suggest why.
Nearly all that have names include those who died — suggest why.
Most have several cases of the same family name — what does this tell us?
Note: You can research the names on the memorial and build up a picture of who volunteered, when, and their service.
Size and style
How would you describe the monument?
What is it made of? Suggest why.
Does it have images or sculptures of people? Suggest why.
Symbols
What symbols can you see? Explain what each represents.
Common symbols include: Cross, soldier statue looking down, soldier statue looking up, plain plinth, rising sun, female figure
Words/inscriptions
What words or inscriptions are there? What do these words tell us about how the local community saw the war?
Location and setting
Where is the memorial located?
Why would it have been placed here?
Conclusion
What does your local war memorial tell you about your local community and its war experience?
Finding out more
Watch The Anzac Legend episode of the Australian Journey video series, which investigates the meaning of three First World War memorials: the Anzac Memorial in Hyde Park; the Women's War Memorial Gardens in Adelaide; and the Australian War Memorial in Canberra.