23. Aboriginal people hitting sixes
1868: Aboriginal cricket team tours England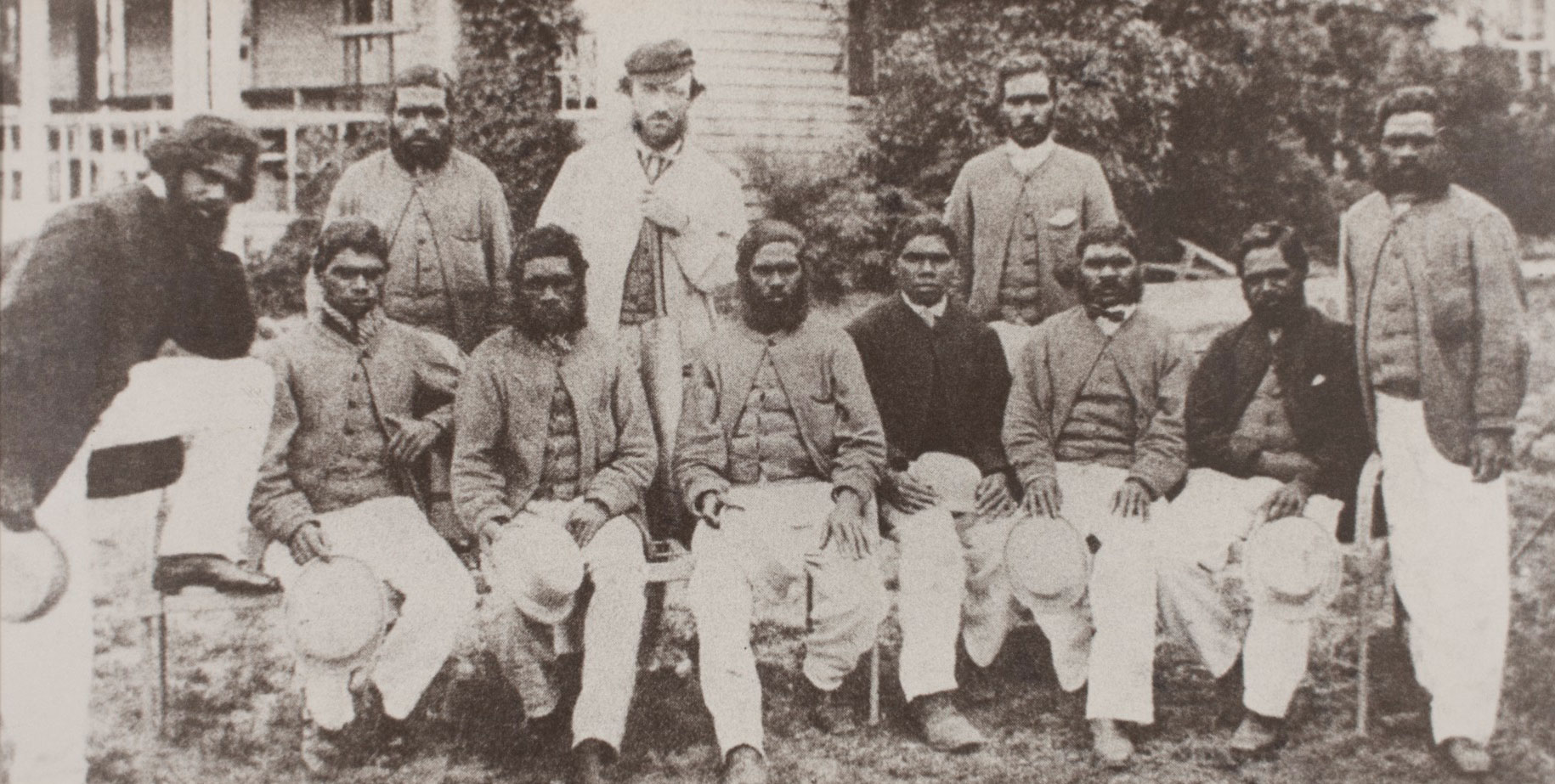 As the boat leaves port, you wave farewell to the Australian colonies. You're on the three-month boat ride to England with a team of cricket-playing Aboriginal Australians. What an adventure!
You spend much of the rough, windy journey talking to the coach, English cricketer Charles Lawrence.
'First Australian team to tour overseas! Can you believe it?'
'I can't! So many people in the colonies are hostile to Aboriginal people, yet here we are', you say.
'Cricket is a really important part of social life in the colonies,' he says, 'and seeing Aboriginal people play, well, I guess the whites see it as a bit of entertainment.'
He grabs hold of the slippery boat as it rocks to one side.
'These men have already played against the Melbourne Cricket Club in front of 8,000 people! The blokes performed some activities afterwards like throwing boomerangs and spears. We've got 13 men from western Victoria with us on this trip. Jarwadjali, Gundtimara and Wotjobaluk men.'
Months later, the boat arrives. The tour is quite successful. The team play 47 matches spread over six months. They win 14, draw 19 and lose 14, a good effort. The team make headlines wherever they go. You read one magazine that says, 'They are perfectly civilised, having been brought up in the bush to agricultural pursuits.' They attract some big crowds, including over 20,000 who turn up to The Oval cricket ground in London. Other newspapers express things very differently, with statements describing the men as 'conquered natives of a convict colony' and a 'travesty upon cricketing at Lord's' (a famous cricket ground).
After the tour, and the return home journey, the cricketers go back to their lives working as labourers on farm stations. Some years later, the law is changed, making it hard for the men to tour as cricketers, as they needed the written permission from white 'protectors' to travel. A real shame, as you see it. The tour was a full ten years before the first 'official' test match between the two countries in Britain.
The Spiritstone glows brightly. 'Now your visual communication skills must be strengthened.'
Your task
Open a new Word document or get a separate piece of paper. 
Create a collage with the title 'Aboriginal Australians and cricket' that commemorates the 1868 cricket tour
To create your collage, find at least five images about the event from books, the internet, or the 1868 'Making headlines' – Aboriginal cricket team tours England Defining Moment.

Some Google search terms you could use are: 'Indigenous cricket' or 'Aboriginal cricket team 1868'

Include a dot point under each picture saying what it is and why you put it there.
You compete the task, the stone glows green to tell you it has been done correctly.
'A new organisation has been set up in Melbourne. Find out about it.' Go to 25.