2.3 1880 How were Chinese migrants portrayed in Australia?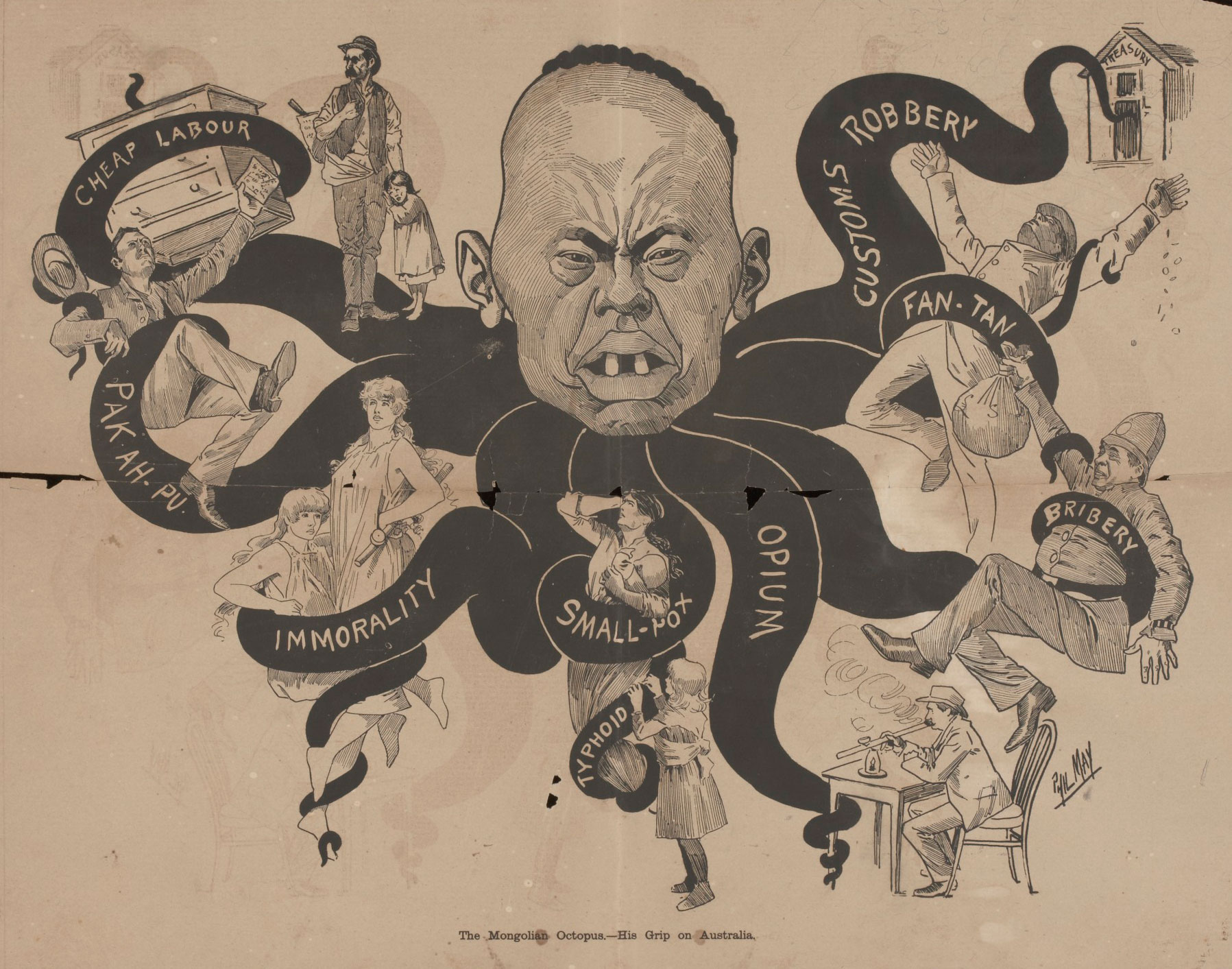 Chinese migrants first began arriving in Australia in significant numbers in the 1840s as unskilled labour. By 1852 more than 1500 had arrived. Soon after, Chinese migrants arrived in much larger numbers in response to the discovery of gold. In 1861 Australia had at least 38,000 Chinese migrants living in the colonies. It was estimated that one out of every nine men in Australia at that time were Chinese. Many, however, later returned to China.
By the time of Australian Federation, there were around 29,000 Chinese people living in Australia. Some ran small businesses in Sydney and Melbourne while others worked in rural areas such as the Queensland banana trade and Tasmanian tin mining.
It was in this context that the Bulletin magazine was established in the late nineteenth century. The magazine contributed to the development of an Australian identity.
National identity exists where there is a sense of belonging to a specific place and group of people, and is brought about by shared and common language, culture, history, attitudes, values, loyalties and aspirations. However, it can also sometimes involve the exclusion of people who are felt to be outside of the group because they have different views, cultures or values.
How did the Bulletin reflect some ideas that people shared, that were helping create an Australian national identity? What part did attitudes towards migrants, and in particular, Chinese migrants, play in shaping a national identity? How representative were the Bulletin's views of wider opinion in Australia?
Start by reading about Chinese migration to Australia in the
1800s: Chinese on the Goldfields
. Then read the information about the magazine the
Bulletin
in the Defining Moment in Australian history:
1880 The Bulletin established
, and use the information to answer these questions. You may need to do some further research to answer some of the questions.
1. What was the Bulletin?
2. The Bulletin promoted an image of how many Australians liked to see themselves. It was fashioned around a strong emerging Australian identity. What was this identity?
3. A national identity can include people and it can exclude people. Look at the cartoon above, 'The Mongolian Octopus'. Describe how it depicts Chinese people.
4. What is the message of the cartoon? What does it suggest Chinese people were responsible for?
5. The image is very crude and exaggerated, but was probably very influential. Why do you think people might have responded to such a negative and exclusionary image?
6. In Chinese on the goldfields it says, 'There were people who thought Chinese immigrants were good citizens who worked hard, started businesses and showed exceptional generosity.' This perspective was largely ignored in the early years of the Bulletin. Who else's perspectives were likely missing? Why is this important?
7. What part did attitudes towards migrants, and in particular, Chinese migrants, play in helping to shape an Australian national identity at that time?
8. How representative do you think the Bulletin's views were of public opinion in Australia at the time?
9. If you were advising the National Museum of Australia on an object that it could display to tell the story of Australian attitudes to migration in the late nineteenth century, what would you suggest? (You can see what objects they actually have using the National Museum of Australia collections search)
10. The curriculum area which you are studying here is titled: Making a nation. In what ways might the publication of the Bulletin, with its views on Chinese and other foreign migration, have both helped and hindered this idea?