1.23 2004 Palm Island death in custody and riot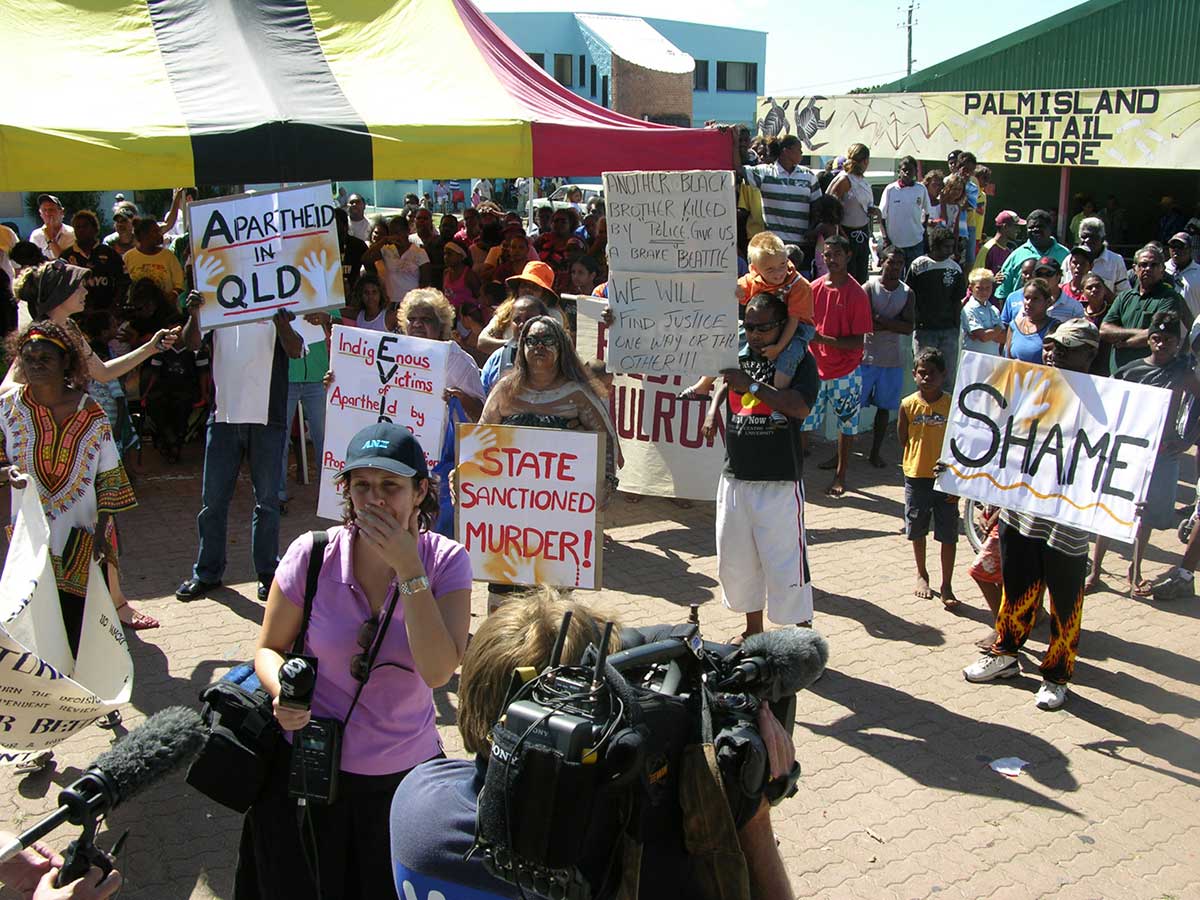 It is 2004.
An Aboriginal man has been arrested on Palm Island, a mainly Aboriginal settlement off the east coast of Queensland.
He has died in custody.
The local people are outraged, and events will occur that will test the relationship between the Queensland Government, police and local residents for years to come.
Read the information below on the 2004 Palm Island death in custody and riot, and answer the questions that follow.
In November 2004 a Palm Island man — Cameron Doomadgee (Aboriginal name: Mulrunji) — died in custody in a cell at the Palm Island police station after being picked up for allegedly causing a public nuisance. As he had no visible injuries at the time of his arrest, there was an autopsy that revealed massive internal injuries. After the Coroner's autopsy report was read out to a crowd of angry residents at a public meeting on Palm Island, protests over the death erupted out of control. The police station, court house and police houses were burnt down and an emergency declaration was issued by the police. A Special Emergency Response Team was flown from the mainland to Palm Island, and raided the homes of a number of Palm Island residents. The Queensland Premier, Mr Beattie, later admitted that the events surrounding the death in custody 'did strain the relationship between Aboriginal Queenslanders and the state government for a considerable period of time — and it may well have done that permanently.' The officer who arrested Mulriunji eventually stood trial for his death, but was acquitted of manslaughter in 2007. This chain of events has made it difficult to build trust between police and Palm Island residents in the years since then.
In 2004 in response to the Palm Island riots police raided several homes on the island. Two residents sued the State of Queensland for damages for assault and false imprisonment. They won their case and the Government had to pay substantial damages.
In another incident, Lex Wotton, who had urged action against police over the death of Mulrunji, and who was involved in a riot and the burning down of police buildings, was arrested and removed from the island. The subsequent court case brought under the Racial Discrimination Act by Wotton saw him and his family awarded $220,000 in compensation.
In 2017 a class action by Aboriginal residents was brought against the police for the 2004 incident, and they were awarded $30 million as compensation. On 28 June 2018 the Queensland Government published an apology that read in part:
'As a Government, we acknowledge that this experience (between 19 and 29 November 2004) has impacted significantly on your lives. As a Government, we have learned from your significant pain and suffering, and have taken significant steps to ensure that none of our citizens will again suffer discrimination at the hands of their government. All Queenslanders, irrespective of which community they live in, are entitled to expect equal treatment under the law. The people of Palm Island were entitled to expect that: they were entitled to equal respect and to be treated with the same dignity as any other Queenslander. We acknowledge that the government of the day failed to ensure this equality.'
Extracts and information from Anti-Discrimination Queensland, Aboriginal people in Queensland: a brief human rights history, https://www.adcq.qld.gov.au/__data/assets/pdf_file/0013/10606/Aborigina…, viewed 14 October 2020
1. What was the 2004 case on Palm Island?
2. How did police respond?
3. What was the impact of this response, both in the short and longer term?
4. Why did various subsequent cases find that the reaction was excessive?
5. How did the events show that a group of Aboriginal and Torres Strait Islander people were being treated unequally?
6. What was the significance of the events on Palm Island for Aboriginal and Torres Strait Islander people's rights?
7. How would this event have influenced the development of Aboriginal and Torres Strait Islander people's rights over time?