1.11 Overland telegraph: 'Words singing in the wire'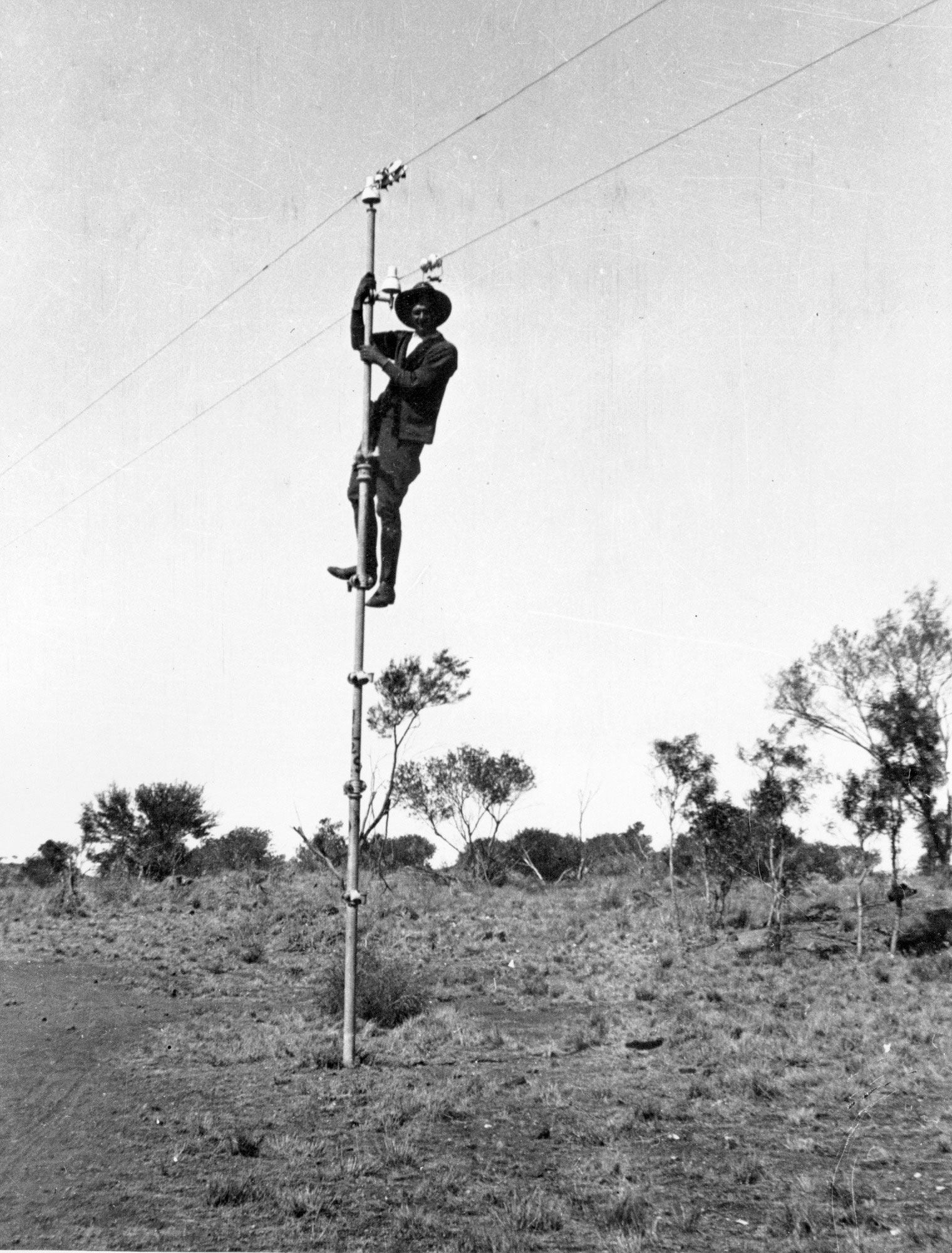 Imagine that you are in Adelaide.
You have been given the job of connecting Adelaide and Darwin by telegraph — that is, by covering 2000 kilometres with the sort of poles and wires that you see in most local streets.
It is going to take many months. You only have people, carts and horses for the job.
List the things that would need to be done for a team of workers to carry out this job.
Discuss your ideas, then see how something like this really did happen in Australia.
Your task is to go through each evidence file and answer the questions.
| | | |
| --- | --- | --- |
| Slow communications | An invention | First telegraph line in Australia |
| Linking Australia to the world | Impacts | Looking at a photograph |
Evidence file A
Slow communications
In the early days of Australia communication was very slow. The fastest means of travel overland was by horse. Ships carrying letters and newspapers between England and Sydney took four months each way.
Evidence file B
An invention
Communication in Australia was changed by the invention of the telegraph. This meant messages could be sent by electricity travelling along wires strung between high posts. You can probably still see this system in your own street or nearby.
The first telegraph message across space through electrical impulses was sent in 1844. A telegraph operator would read a sentence, and convert it into 'Morse code', where each letter of the alphabet was represented by its own combination of dots and dashes. Each dot or dash was created by an operator using a small machine.
The operator would push the metal arm of the machine down onto a metal base, creating a 'click'. Each of these clicks would create an electrical impulse that travelled along the wire to another operator, usually hundreds of kilometres away, who would record the message. The operator would then deliver it to somebody locally or, if it was for a more distant place, re-send it to the next operator who in turn would re-send it, and so on until its eventual delivery in the form of a paper telegram that contained the original words of the message.
Evidence file C
First telegraph line in Australia
Australia's first telegraph line began operation between Melbourne and Williamstown in 1854. Within four years, Sydney, Melbourne and Adelaide were connected.
Initially the telegraph lines were on land. In 1858 the first undersea cable was laid between Britain and Newfoundland, and this now allowed almost instantaneous communication between separate continents and major islands.
Evidence file D
Linking Australia to the world
In 1872 Charles Todd had the job of completing a telegraph link between Adelaide and Darwin, where the undersea cable ran from Darwin to Java, and from there back to Britain. A telegraph message would now reach Australian in seven hours, compared to a letter on a ship which would take about 60 days. Australia was now connected to the world.
The telegraph poles and wires had to cover over 2000 kilometres, much of it through desert and all of it through land occupied by Aboriginal people, sometimes leading to conflict. This is the same route that the famous train, the Ghan, now travels, shown in this map.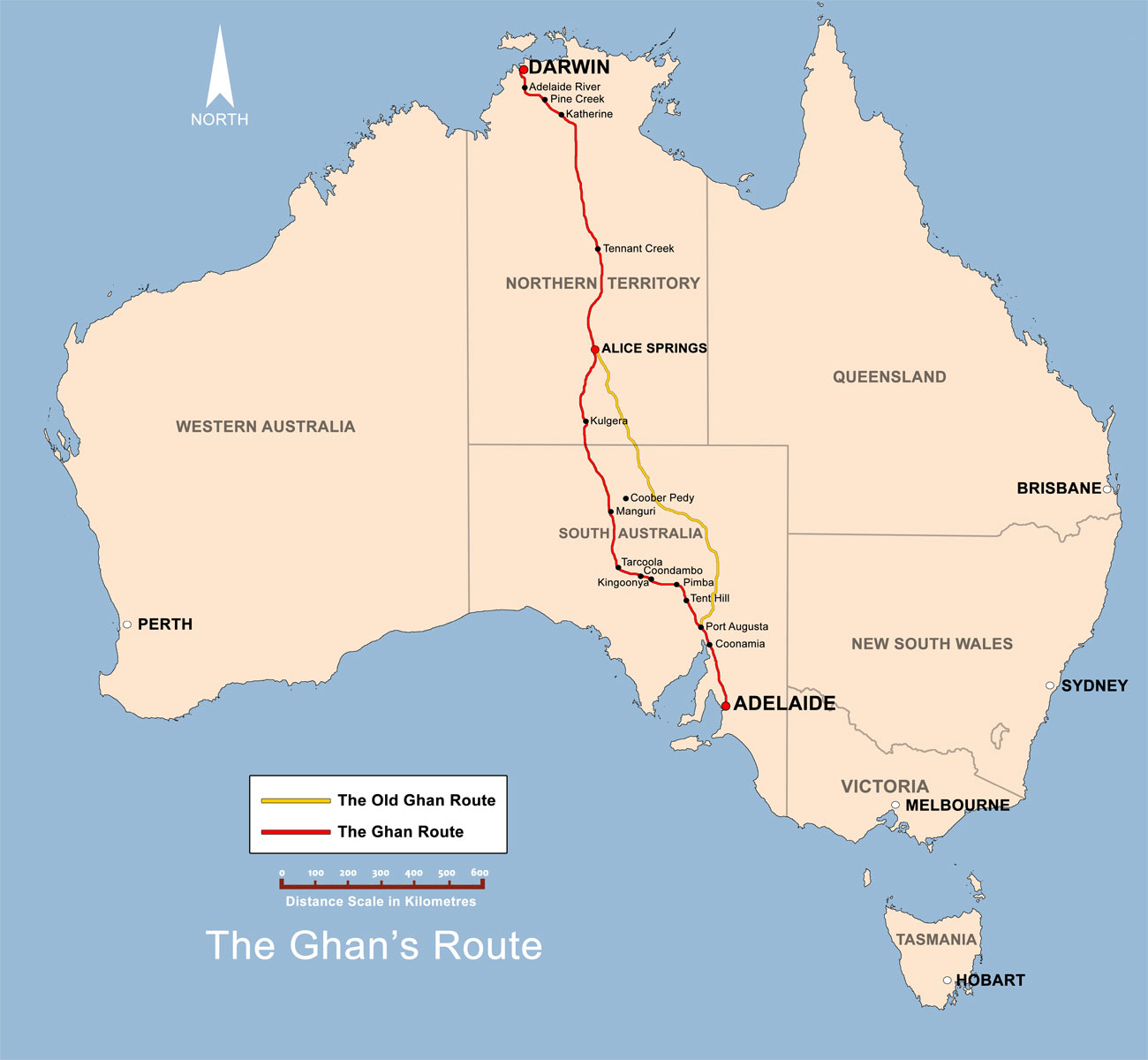 The builders had to survey the route, set up work camps, and make sure that all materials and food were available along the whole route.
The line featured 36,000 telegraph poles and 11 repeater stations (necessary to boost the strength of the electrical signal), each about 200 kilometres apart.
Later Aboriginal people used the ceramic conductors to fashion spear heads and cutting tools.
Evidence file E
Impacts
The Overland Telegraph changed the way Australia related to the world and the country's extreme isolation ended.
The telegraph line also opened up the centre of the continent. Within a year of its construction there were gold miners in the area, and people were bringing cattle in. A repeater station was set up at Alice Springs, which soon became a town.
1. Using the information from evidence files A to E, create a brief timeline of the development of the overland telegraph by matching each date with the correct event for that date.
Evidence file F
Looking at a photograph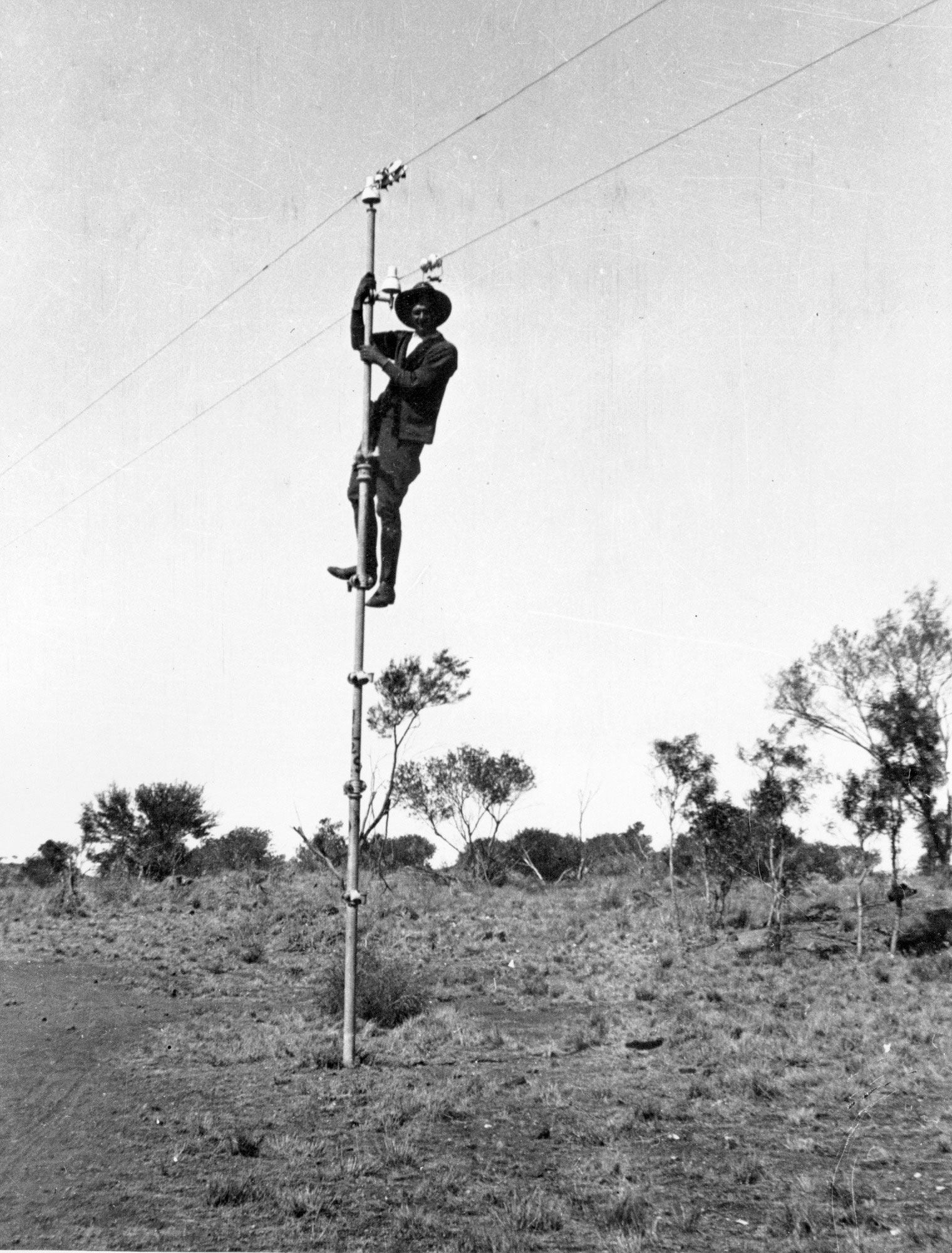 2. This shows a man putting up a pole and wire. List as many stages as you can to explain how this was possible. For example, someone had to mark out the route, then…
Explain all the steps that would be needed to do this.
3. Think about everything you have learned in this investigation. (a) What happened? (b) When? (c) Where? (d) Why?
4. Do you think this event is important in Australian history? Why?
5. The National Museum of Australia has many objects on display. These objects are linked to stories of people, places, events or ideas, and help us understand more about those stories.
Suggest three possible objects relating to communications in colonial Australia that could be in a museum.
6. If you could choose an object to put on display in the National Museum of Australia about the overland telegraph, what would it be? Make a choice, and write a short caption for it.