1.10 Aboriginal cricket tour: 'Strangers in a strange land'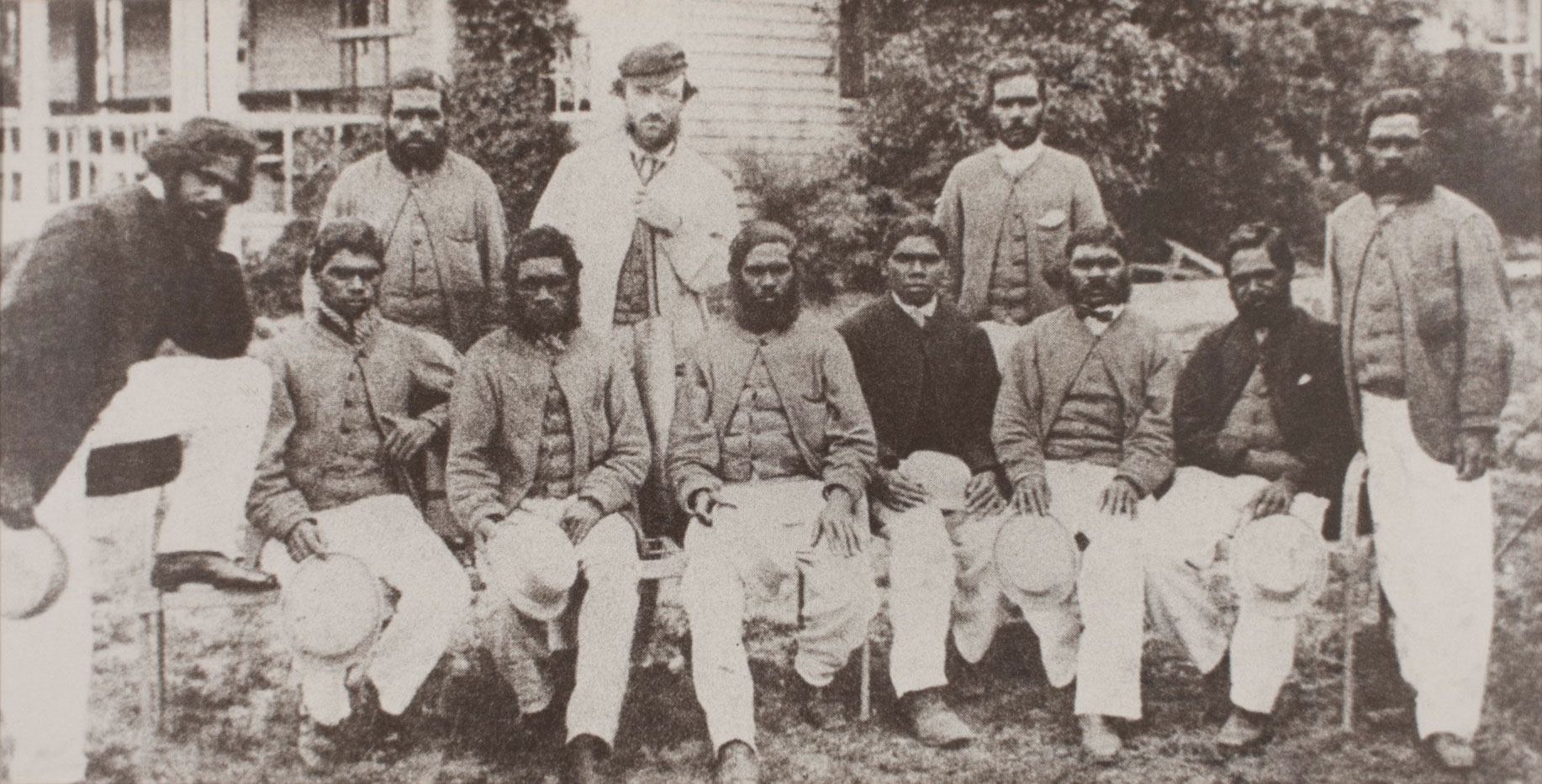 Imagine that you are part of a small group travelling to another country.
You are there to represent your own country at some sporting events.
You will be away for four months or more.
You have never travelled outside your home area before.
You do not know much about this new country.
You know the people there speak a language that you understand to some extent, but everything else — their customs, laws, ideas, values, even the weather — is very different.
How might you feel about this trip?

What might be some problems you face?

What will help you remain happy and healthy while you are there?
Discuss these questions then see how an Aboriginal cricket team faced this situation in 1868.
Your task is to go through each evidence file and answer the questions.
Meet the first Aboriginal cricket team

The team's matches

Back in Australia

Commemoration

 

Looking at a photograph

Looking at a document
Evidence file A
Meet the first Aboriginal cricket team
In May 1868 the first Australian cricket team ever to travel overseas arrived in England for a series of matches.
The team consisted of 13 Aboriginal men from the Western District of Victoria. The Jardwadjali, Gunditjmara and Wotjobaluk men were coached and captained by a former English cricketer, Charles Lawrence.
The team had its beginnings in the Western District of Victoria, where cricket was played on many farms, cattle and sheep stations. The Aboriginal workers and stockmen employed on those stations took part in the game.
1. Check your understanding of this evidence by completing these statements.
Evidence file B
The team's matches
The team played 47 matches, winning 14, losing 14 and drawing 19.
Unaarrimin, a Wotjobaluk man also known as Johnny Mullagh, was the standout performer. An all-rounder, he scored 1698 runs; bowled 1877 overs, 831 of which were maidens (no runs were scored off them); and took 245 wickets. He also achieved four stumpings while playing as wicket-keeper.
The team also demonstrated a range of skills such as boomerang and spear-throwing. One member of the team, Jungunjinanuke, also known as 'Dick a Dick', used a club and shield to deflect and dodge cricket balls hurled at him by volunteers. These 'Aboriginal sports' often drew large crowds due to their novelty and the players' skill.
Evidence file C
Back in Australia
On their return to Australia, most of the cricketers returned to station life. In 1869 the Victorian government passed the Aboriginal Protection Act, which said that Aboriginal people had to stay on designated places called reserves. They also needed the signed permission from an official called the Protector of Aborigines to leave the reserve. This made it difficult for Aboriginal cricket players to continue playing competitive cricket.
Unaarrimin (Johnny Mullagh), however, continued to play cricket and represented Victoria against a touring England side in 1879, top scoring with 36 in the second innings.
2. Check your understanding of this evidence by selecting true or false for these statements.
Evidence file D
Commemoration
The Johnny Mullagh memorial trophy is named in his honour and the Johnny Mullagh Cricket Centre has been established in Harrow, Victoria.
Evidence file E
Looking at a photo collage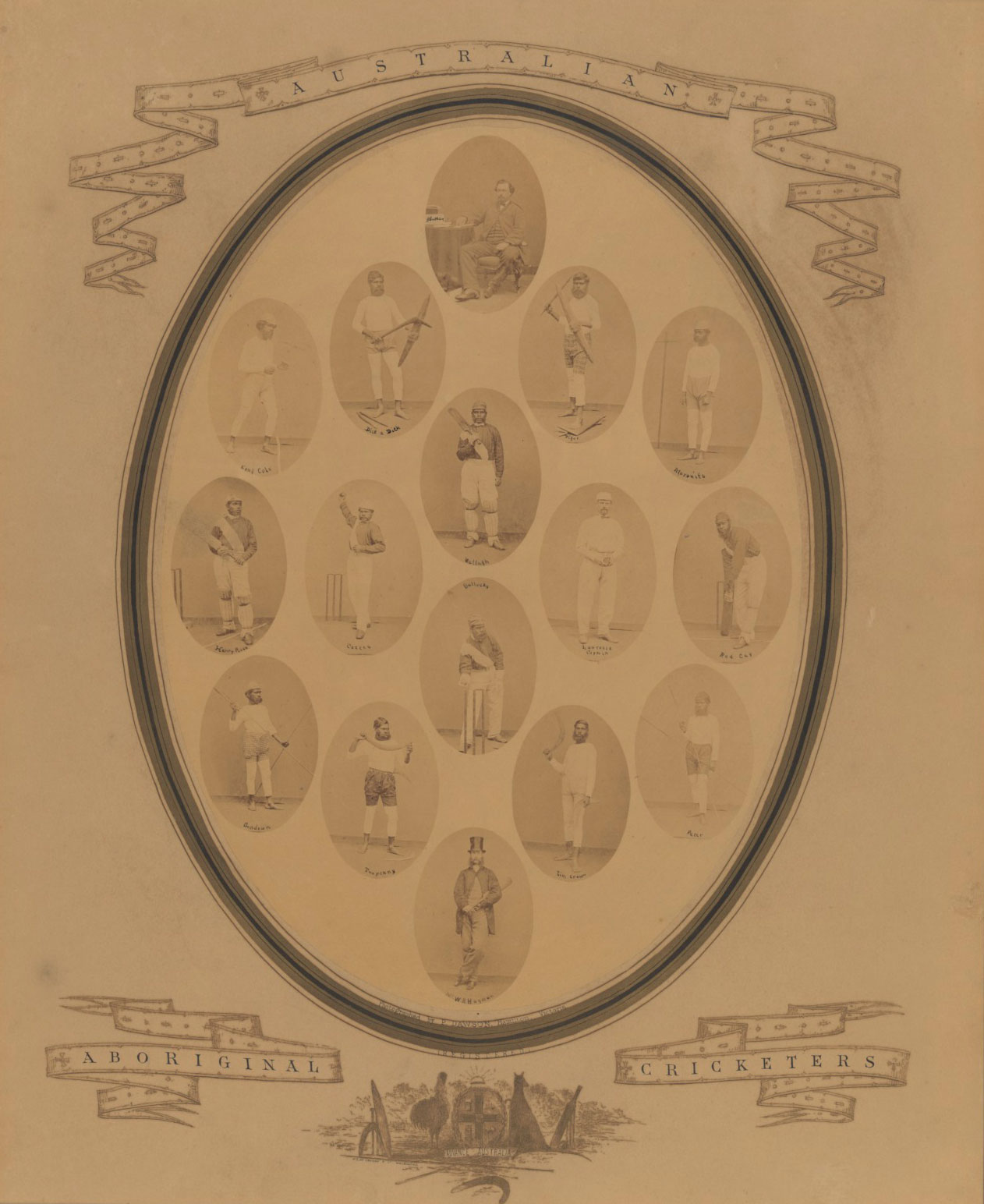 3. Who are the people in this photo collage?
4. What different things are they holding?
5. Why would some have cricket gear, and others have Aboriginal objects?
6. What symbols of Australia are in the photograph?
7. Do you think someone would be proud to be in this photograph? Why?
Evidence file F
Looking at a document
Here is a comment by an English newspaper reporter about the team:
'They are the first native Australians to have visited this country on such a novel expedition, but ...they are [not] savages; on the contrary … [t]hey are perfectly civilized, having been brought up in the bush to agricultural pursuits …'
The Sporting Life, London, 16 May 1868:
8. How does the writer describe the team?
9. What is the writer's attitude to the players?
10. What does the use of word 'civilised' tell us about attitudes towards Aboriginal people at that time?
11. Think about everything you have learned in this investigation. (a) What happened? (b) When? (c) Where? (d) Why?
12. Do you think this event is important in Australian history? Why?
13. The National Museum of Australia has many objects on display. These objects are linked to stories of people, places, events or ideas, and help us understand more about those stories.
Suggest three possible objects relating to the Aboriginal cricket team that could be in a museum.
14. If you could choose an object to put on display in the National Museum of Australia about the Aboriginal cricket team, what would it be? Make a choice, and write a short caption for it.
15. Imagine that you could ask Unaarrimin (Johnny Mullagh) five questions. What would they be?
16. Imagine that a new memorial about the Aboriginal cricket team was going to be placed in Melbourne. Most people today would not know much about the team. Your statue has to help them understand who they were and what they did. Describe or sketch what you think it could show. For example, would you show Johnny Mullagh, or some other team members? What would your characters be doing?
17. You have to provide a sign for the statue. What would you say?