1.5 The discovery of gold: 'Gold fever!'
Imagine that… 
Gold was suddenly discovered in a huge park in your area today. Gold is a valuable metal. It can make people rich. All you have to do is go to an area, start searching, dig deep holes in the ground (that might take many months) to find it. What might happen?
Would people go and search for it, leaving their jobs and families for many months?
Would people from overseas come to find it?
Would people be happy if they knew they had to pay a tax to search, even though they might not find any gold for months?
Would people living close together and all competing for the same gold be able to live together peacefully?
What would happen if only a few people found gold?
Discuss these questions, then see how something like this really did happen in Australia.
Your task is to go through each evidence file and answer the questions.
| | | | | | |
| --- | --- | --- | --- | --- | --- |
| What is gold? | The discovery of gold in Australia | The hunt for gold | The impact of gold on population  | The impact of gold on Australia | Studying pictures |
Evidence file A
What is gold?
Gold is a valuable metal that can be found as specks in water, as lumps in dirt, or as specks in quartz rock. Gold in Australia was formed in the beds of streams. Sometimes the streams had been buried over time, so the gold was under the soil.
1. Check your understanding of this evidence by selecting true or false for this statement.
Evidence file B
The discovery of gold in Australia
The discovery of gold in the 1850s started a series of gold rushes that totally changed the Australian colonies.
The first of these discoveries were at Ophir in New South Wales, near Bathurst, in 1851.
Soon after, gold was discovered at Ballarat, Castlemaine and Bendigo in Victoria. Significant deposits were discovered in Tasmania from 1852, in Queensland from 1857 and in the Northern Territory from 1871. In the 1890s a new series of rushes were triggered by the discovery of huge goldfields at Kalgoorlie and Coolgardie in Western Australia.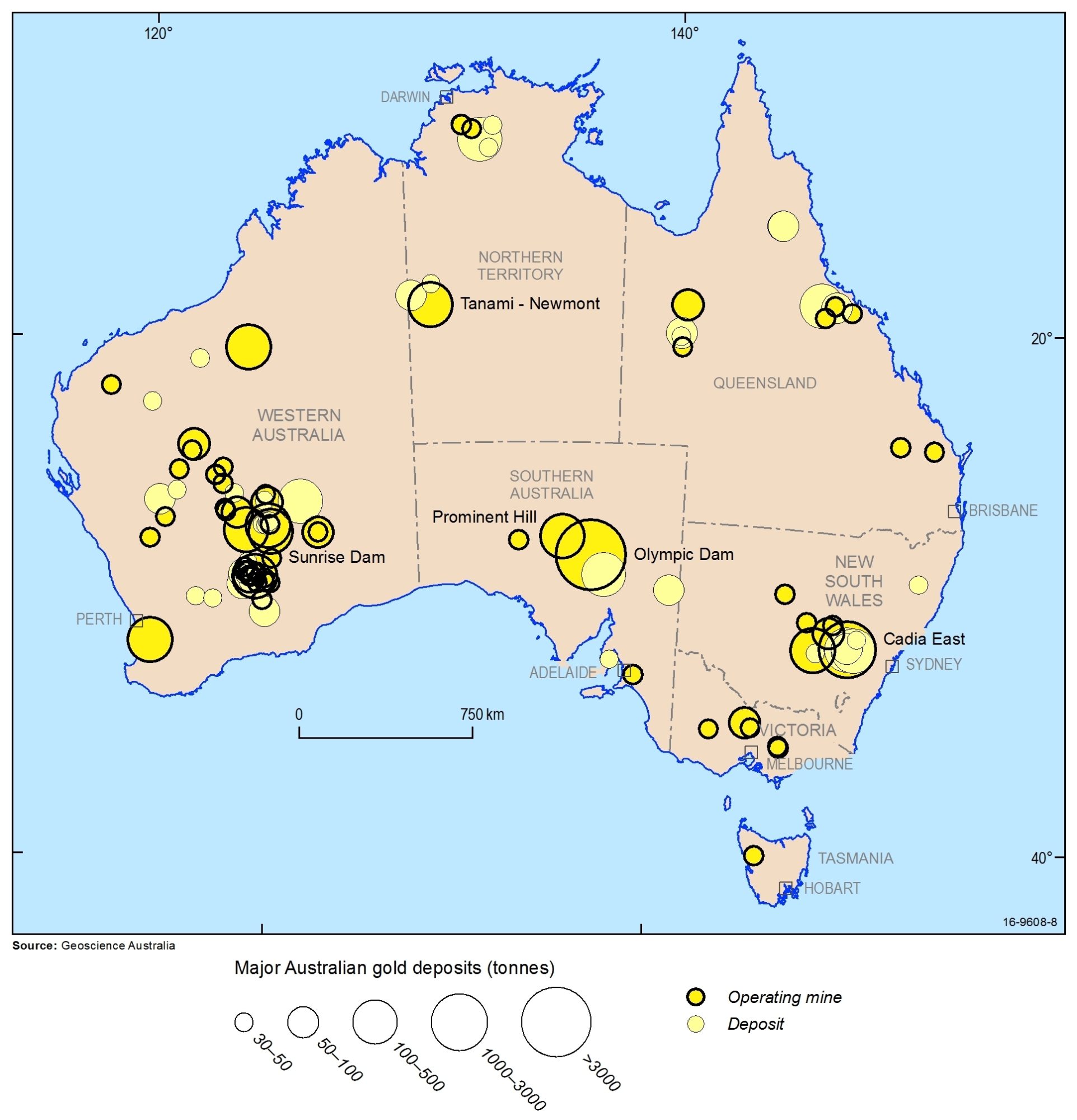 This map shows the location of both gold deposits throughout Australia and gold mines that are operating today. Which is the best way of describing what this map shows?
Evidence file C
The hunt for gold
When a gold rush started, especially the Victorian gold rush, local people left their jobs to search for gold. Also, hundreds of thousands of people came to Australia from overseas.
At the start, gold was found in streams, or close to the surface where old streams used to flow.
Later, miners had to dig deep shafts to look for the gold left behind in old streams that had become covered by dirt, sometimes hundreds of metres below the surface.
A few miners made a fortune, many found very little gold, and most just found enough to pay for the costs of being miners — food, equipment and a licence or tax to mine. One of the best ways to make good money was to be a shopkeeper on the goldfields, rather than a miner.
Evidence file D
The impact of gold on population 
In the years between 1851 and 1860, Victoria's population increased sevenfold from 76,000 to 540,000. Between 1851 and 1871 the Australian population increased fourfold from 430,000 people to 1.7 million as migrants from Britain, China, North America and across continental Europe arrived in search of gold.
6. Check your understanding of this evidence by selecting true or false for these statements.
Evidence file E
The impact of gold on Australia
Many thousands of those who came to the goldfields stayed in the area, and towns and cities grew. Many others moved to the capital cities, especially Melbourne. These new migrants often brought new ideas with them, and helped change the way people thought and behaved. They also developed a greater sense of egalitarianism (the idea that people are equal) because they had all been equal on the goldfields, and needed each other to survive. This is an attitude or characteristic that is said to be part of Australian national identity today.
The huge amount of gold dug up in Australia made the country a destination for people from around the globe and by the end of the 19th century the rushes had helped create a wealthy, progressive society with a standard of living that was the envy of the world.
You can see this with Melbourne:
Evidence file F
Studying pictures
Below are two watercolour paintings of scenes during the gold rush period.
Look at each painting and answer the questions that follow.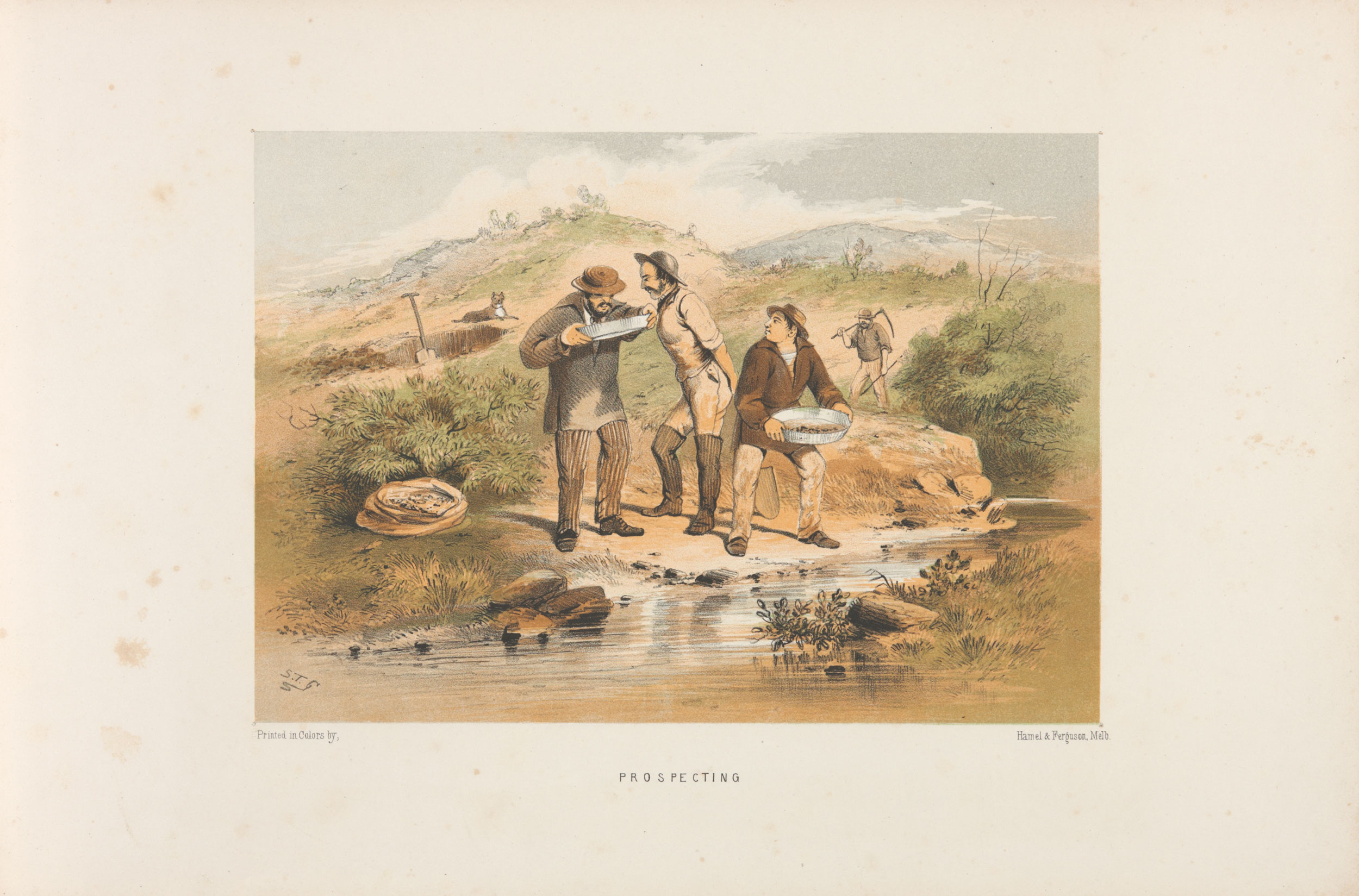 9. What are the men in the painting doing?
10. Why would they be looking for gold in a stream?
11. If they wanted to find gold in an underground stream what would they need to do?
12. Here are a group of diggers who have come to search for gold. What impacts can you expect them to have on the environment — the trees, the land and the water?
13. Think about everything you have learned in this investigation. (a) What happened? (b) When? (c) Where? (d) Why?
14. Do you think the discovery of gold is important in Australian history? Why?
15. The National Museum of Australia has many objects on display. These objects are linked to stories of people, places, events or ideas, and help us understand more about those stories.
Suggest three possible objects relating to gold mining in colonial Australia that could be in a museum.
16. Here is a gold mining cradle that the National Museum of Australia has on display.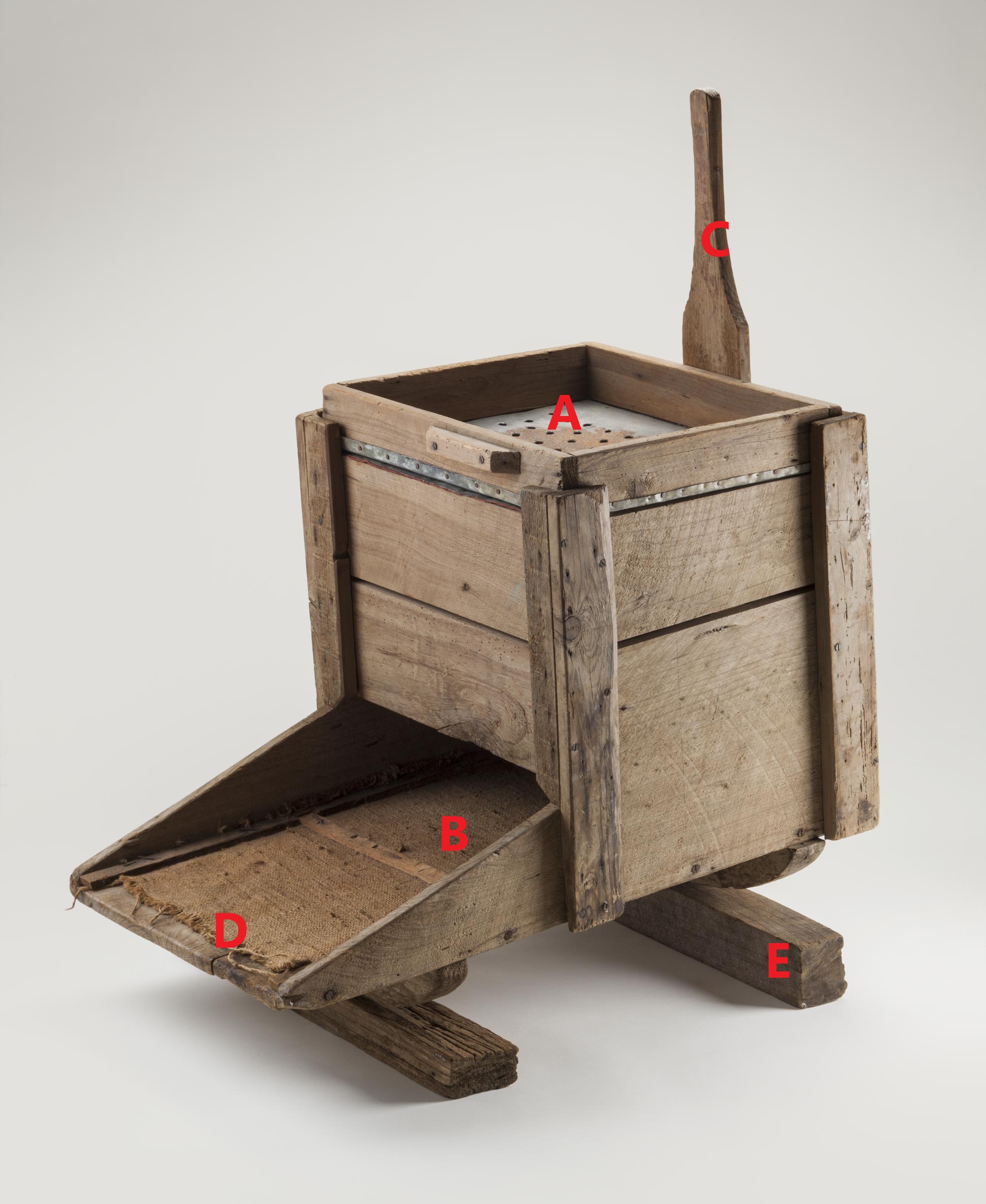 Look at this drawing of Chinese miners using a cradle.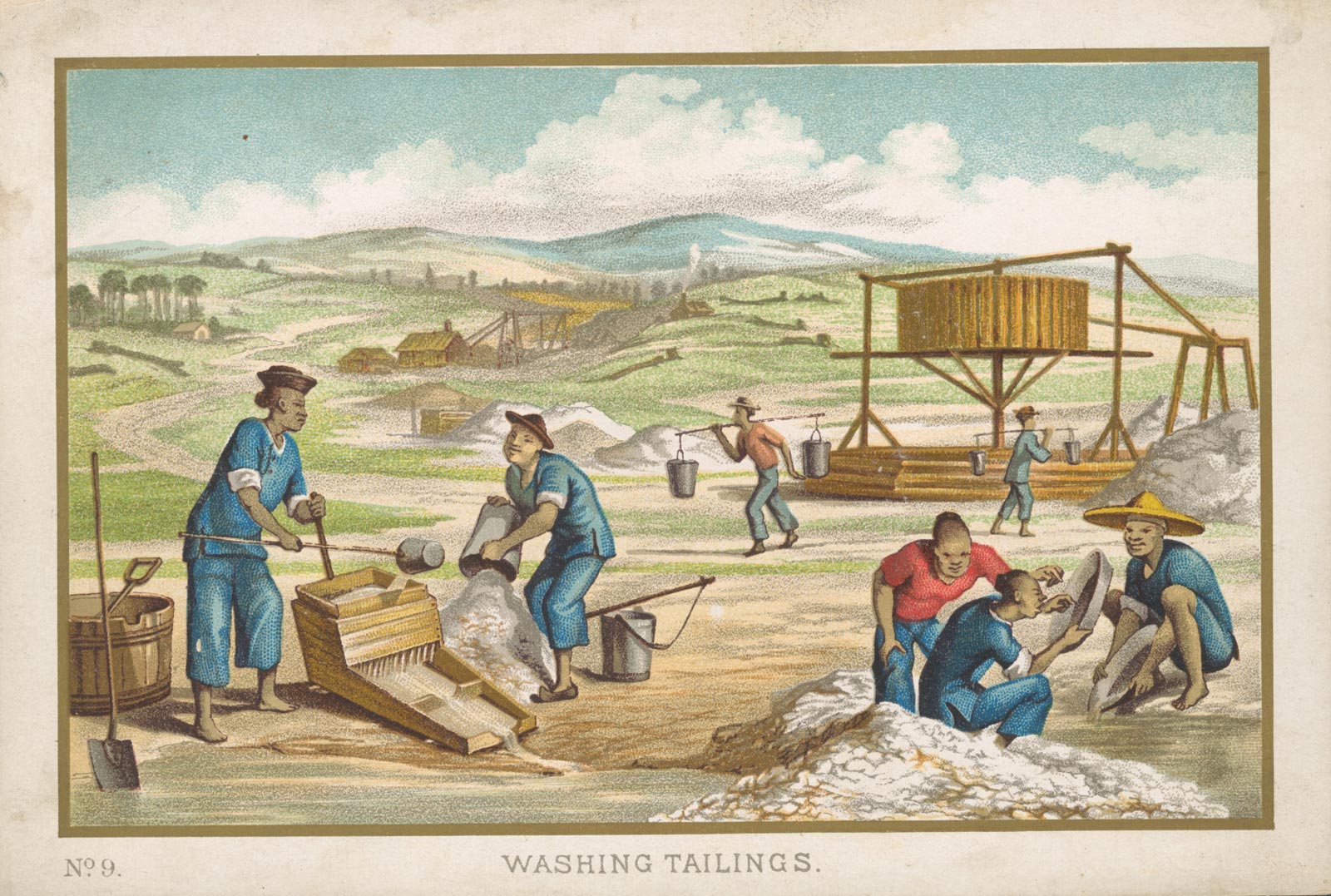 17. Now explain in your own words how you think this object, called a 'cradle', would help diggers find gold.
18. Write a caption to put with this object.